Less strain on the environment and your bank account, too: Driving with natural gas
Less strain on the environment and your bank account, too: Driving with natural gas
Low-emissions mobility concepts are a huge priority for Volkswagen. As well as electric and hybrid vehicles, Volkswagen's natural-gas-powered models also embody responsibility and economical advantages. In short: Driving with natural gas can pay off. For your bank account. Find out here which models are available and how driving with natural gas can pay off for you, too. 
100% suitable for daily life: Our natural gas models
Volkswagen is one of Germany's leading manufacturers of natural gas vehicles. As a result, we are able to offer you an attractive of vehicles that you can use for day-to-day driving without any if's or but's. 
A clear advantage: The natural gas drive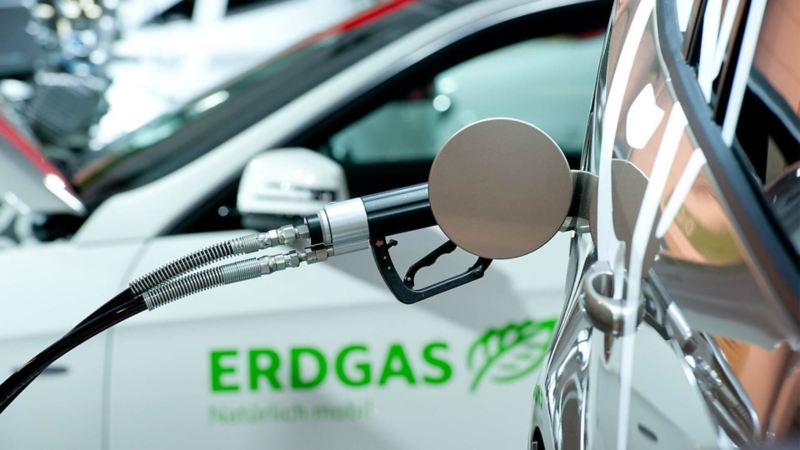 Natural gas is more affordable, which reduces your fuel costs.

In contrast to petrol, CNG is odorless so there are no unpleasant smells while you are refueling.

At 130 octane, CNG has a higher energy density than petrol, which makes it more economical.

Natural gas vehicles combine the comfort of a petrol engine with an economic natural gas drive.

CNG vehicles are just as practical as normal vehicles thanks to the space-saving underfloor fuel tanks.

Natural gas vehicles are just as suitable for day-to-day driving as conventional vehicles. For instance, a

Volkswagen

TGI vehicle can be parked in almost all underground parking lots without any problems. This restriction applies exclusively to LPG vehicles.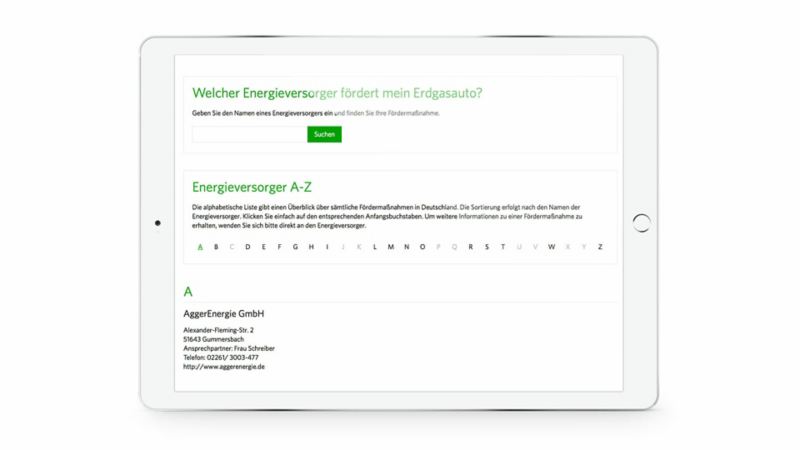 Your reward: Buyer's bonus 
Natural gas enables you to save an incredible amount in fuel costs. And you can even gain money, too. That's because, in some regions, a buyer's bonus is available for natural gas cars, offered by gas suppliers to support natural gas vehicles. 
→ More information about regional schemes is available at:
www.erdgas.info 
Easy going. Almost everywhere. Refueling with natural gas.

Refueling with natural gas is just as easy as petrol or diesel. Germany has a good network of natural gas refueling points.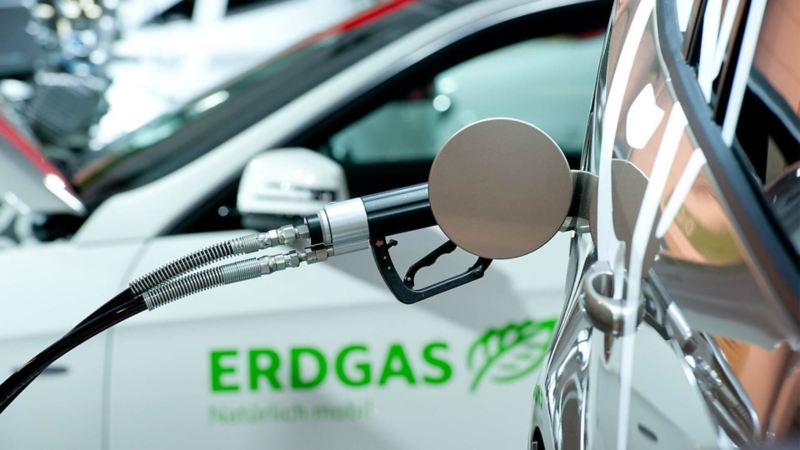 Nothing out of the ordinary: Just one type of fuel 
Take the nozzle out of the holder

Attach to the vehicle and lock

Press the button to start the refueling process

Unlock as soon as it reaches the required fill level

Hang the nozzle back up again
Won't leave you at a loose end: The refueling network

There are currently 850 CNG refueling points across Germany. Over three quarters of these gas refueling points are located at branded public refueling stations on highways, in small towns and large cities. You can tell which refueling stations supply natural gas by the standardized CNG label on the sign. 
Thinking outside the box: How the Volkswagen Group is getting involved 
Volkswagen Group is pushing forwards with the expansion of natural gas mobility in a number of ways. It is an important element in the Group's new drive strategy. 
Find out more at: discover-cng.com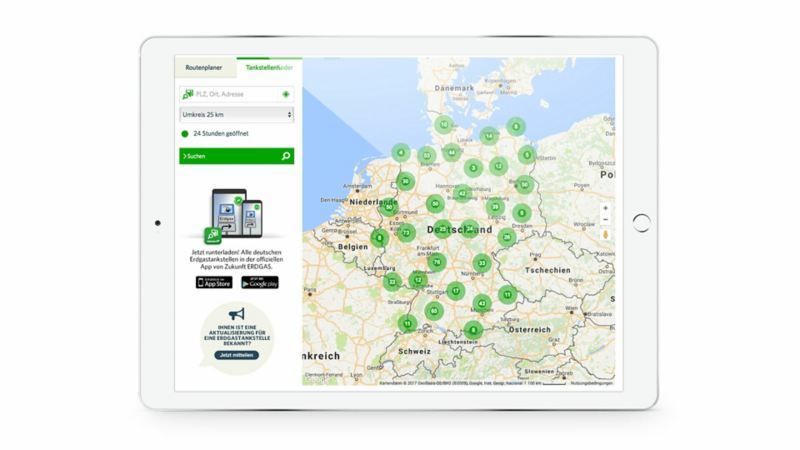 Points the way: The refueling station finder
On the hunt for a CNG refueling station? The refueling station finder shows natural gas refueling points nearby or along your route. The refueling station finder is also available to download as an app for while you're on the road. 
Find your nearest refueling station at: erdgas.info 
Pretty clear: Fuel cost comparison

Our natural gas vehicles help to save on one thing right from the outset: the frustration of high fuel prices. Instead, you'll leave the fuel pump with a smile. That's because driving with natural gas turns fuel costs into fuel savings. See the table below to see exactly how much fuel you can save in a new Volkswagen based on a number of engines as an example. You will be amazed.
<b>Polo</b><br>

Consumption per 100 km (NEDC) 

Price in € per l / kg 2018 **) 

Natural gas CNG (H)
1,0 l
66kW TGI
Natural gas CNG (H)
1,0 l
66kW TGI
Highly sophisticated: The operating principle and technology

The engine has been optimized for use with natural gas. This reduces consumption and has a positive effect on emissions. 
Ideally tailored: Designed for use with CNG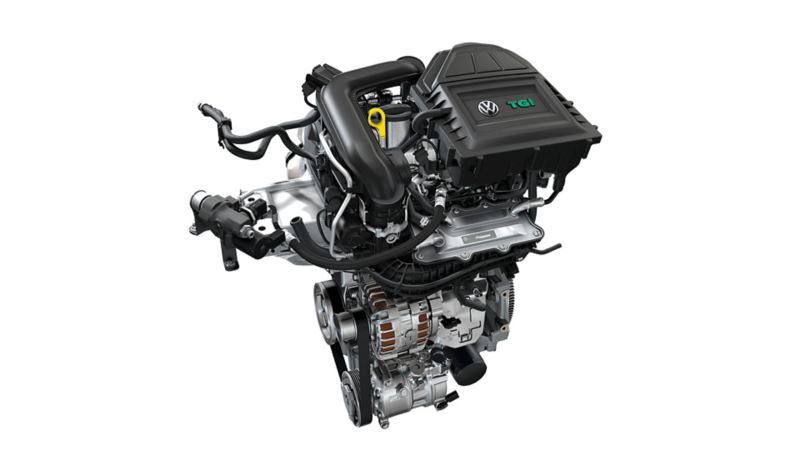 To make sure a car can run on natural gas, the engine is optimized for this technology. This includes changes to:
the cylinder head / valve gear

crankshaft drive / piston assembly

catalytic converter / exhaust gas turbocharger (ATL)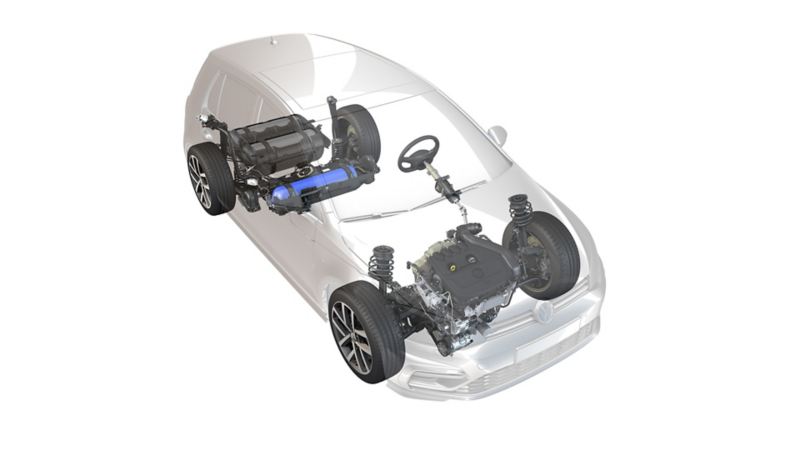 Stowed away: Natural gas tanks 
The natural gas tanks are integrated into the underbody to save space and therefore do not limit the vehicle's variability, nor its interior space or storage capacity.
What's more, every natural gas vehicle has a petrol tank on board. This is needed to start the vehicle. And for emergencies: If the gas is running out and there are no CNG refueling points nearby, the vehicle simply switches to petrol mode. The tank size ranges from 10 l to 50 l depending on the model.